Today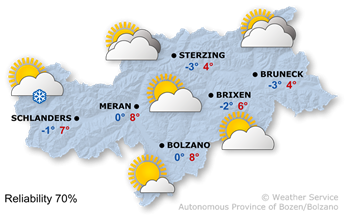 Weather Conditions
Northwestern currents.
In the South more and more sunshine, in the North unstable conditions. During the day strong wind in the Vinschgau and Wipptal.
The Temperatures
-1, 7
High values from 4° and 8°.
Sunny towards South
current temperature 28.11.2023 06:47
The next evolution
Increasing instability on Thursday
Sunshine will predominate on Wednesday, few clouds.
Increased cloudiness on Thursday with precipitation coming from the south. Snowfall limits at first in the valleys, during the day rising on 500 and 1000 m.
Friday unstable conditions and showers are still possible in places.
Saturday weather improvement. More and more sunshine.
28.11.2023
16:57
08:59
l
c
70
07:34
16:33
6
-3
-11
-18
H3
1600
Mountain weather

Mountain weather
Northwestern currents.
Foreacast

29.11.2023


30.11.2023


01.12.2023


02.12.2023